Når du har læst dette indlæg vil du få mere viden om, hvordan du skriver den perfekte bio på Instagram.
Denne guide kan bruges til både virksomheder og private, som gerne vil gøre deres Instagram profil lidt mere overskuelig.
Noget af det første dine følgere ser på din profil er din profiltekst, også kaldet bio eller biografi.
Det er defor vigtigt at have denne helt skarp, hvis du vil havem at dine følgere eller mulige følgere skal finde din profil interessant.
Det er vigtigt, at du overvejer følgende: 
Hvad kan du?
Hvad laver du?
Hvad får dine følgere ud af at følge med?
Er din profil privat eller offentlig?
I bunden af dette indlæg har jeg lavet en checkliste til din bio på Instagram.
Hvilken slags profil har du?
I din bio på Instagram vil det som det første være en god ide at indsætte dine USP'er.
Hvad er en USP?
USP står for Unik Selling Proposition, og er de fordele du kan tilbyde dine kunder eller følgere.
Se eksempel herunder fra DermaSpace: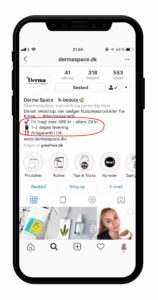 Hvem er din målgruppe?
Hvem er din målgruppe – anvend tekst og udseende efter din målgruppes handlemønster.
Hvis du har oprettet din profil som virksomhedsprofil, har du mulighed for at se en lille del af din målgruppe.
Hvad er din niche?
Du bør have noget bestemt, som du gerne vil dele. Dette har betydning for, om dine følgere hænger ved og vil være mere interesseret i din profil og i dig hvis I deler samme interesse for noget helt bestemt.
Lad os sige, at du godt kan lide skønhedsprodukter.
Du kunne godt tænke dig at dele noget om det, men der findes et hav af folk som også deler om skønhedsprodukter.
Hvilken del i skønhedsprodukter kan du godt lide?
Ta' fx her DermaSpace, som har specialiceret sig indenfor koreanske skønhedsprodukter!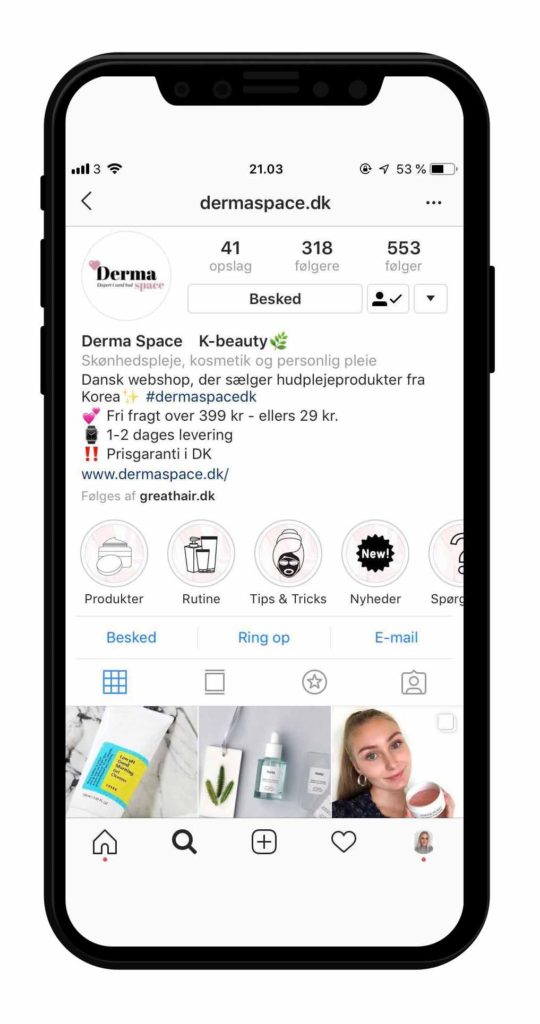 Hvilket sprog skal du vælge?
Skal du skrive på dansk, engelsk eller et helt trejde sprog?
Det handler om din målgruppe.
Men jeg vil anbefale dig at skrive i samme sprog hele vejen igennem.
Her mener jeg, at hvis du skriver på engelsk i din bio, skal din tekst på dine billeder ikke være dansk eller omvendt.
Søge muligheder
Navnefeltet er søgbart, udnyt derfor dit navn godt.
Tilføj her genre – det du vil være "kendt for".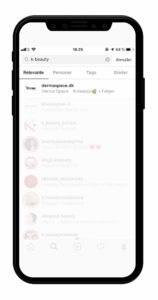 Har din profil en sjæl?
Vis hvem du er, giv dit udtryk til kende.
Du har 150 tegn til rådighed i din bio, og det er virkelig med at anvende dem fornuftigt.
Det vigtigste her er, at du får vist hvem du er:
Hvis du er sjov, vis det!
Hvis du går ind for økologi, vis det!
Hvis du kan lide venstrehånds sakse, vis det!
Det er kun dig selv, som sætter grænserne her.
Et godt råd er at kigge på, hvad andre med samme profiler som dig gør.
Udnyt det og udvikle på det.
Det er noget som jeg konstant både tænker og siger til alle der spørger mig til råds.
Du skal ikke opfinde den dybe tallerken, men udvikle på den.
Teksten skal være så god, at personer som opdager din profil, ikke har andet valg end at følge dig.
Fortæl gerne hvor du befinder dig, hvilken by du "holder til" eller bor i.
Dette får dine følgere ofte til se som noget værdifuldt, hvis de eksempelvis befinder sig samme sted som dig.
Har du dit eget hashtag?
Ellers er det med at komme i gang med at få lavet det.
I hvert fald hvis du er en virksomhed – det er så vigtigt at få "samlet" dine billeder under et hashtag for dine følgere og kan anvendes på et hav af måder.
Når du har fået lavet dig et hashtag, kan du nemlig anvende det i din bio på Instagram. Og det gør det nemmere for dine følgere at se tidligere opslag.
Man skal se det som en form for samlingspunkt for sine følgere.
Emojis
Herefter kan man anvende emojis for at skabe opmærksomhed på sin tekst🔥
En bio som kun indeholder tekst, er ikke noget som fanger øjnene👀
Derfor: find de emojis som stemmer overens med din profils sjæl.
❤️🚨☺️😻💩🐭🌸🦔
Call-to-action
En call-to-action i din bio på Instagram kan skabes ved at anvende et link, hvor du linker til din hjemmeside eller blog. En call to action er en mulighed for at få dine følgere til at trykke på noget, noget du gerne vil have dem til at trykke på.
Email
Lad dine følgere og potentielle kunder nemt kunne få fat i dig og indsæt din email på din profil.
Man kan nemlig godt være lidt begrænset i forhold til hvor lang en besked på Instagram må være. Denne må nemlig kun indeholde 500 tegn.
Bonus til din bio på Instagram
Anvend altid noter til at oprette din bio på Instagram i først.
Instagram giver ikke altid lov til at lave linjeskift og kan godt drille lidt.
Derfor opret et dokument i noter på din telefon, opstil det som du gerne vil have og derefter indsæt det i din bio.
Det gør det hele meget nemmere.
Bio på Instagram checkliste
1: Indsæt USP
2: Tilpas dig din målgruppe
3: Gør opmærksom på din niche
4: Optimer søgemulighederne for din profil
5: Udnyt dig godt af dine 150 tegn
6: Lav dig eget hashtag
7: Anvend emojis
8: Anvend en call-to-action
9: Tilføj din email. Og telefonnummer, hvis du er en virksomhed.
10: Noter på din telefon er din ven.
Tak, fordi du læste med!
Hvis du synes, det her er interessant vil du måske også have interesse for mit indlæg med "Hvordan får jeg følgere på instagram?"
Har du et spørgsmål eller en kommentar, kan du altid skrive til mig herunder eller privat på Facebook eller på Instagram